Even if this past year has been one she'd rather forget for many reasons, Rihanna has been named one of Glamour magazine's Women of the Year for 2009.
Continuing a series of interviews this week to promote her upcoming album, Rated R, Rihanna opens up to the magazine about her brutal February beating.
As we all know by now, the vicious attack perpetrated by then-boyfriend and "first love" Chris Brown was one of the biggest celeb news stories of the year.
One that she says "taught me so much."
"I went to sleep as Rihanna and woke up as Britney Spears," the 21-year-old singer says. "That was the level of media chaos that happened the next day."
"It was like, wait, what, there are helicopters circling my house? There are 100 people in my cul-de-sac? What do you mean, I can't just go back home?"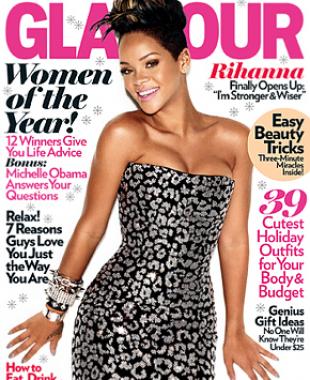 Rihanna: Glamour's new cover girl.
Rihanna says she was "humiliated" by haunting photos of her bruised face that leaked onto the web in the aftermath of Brown pummeling her senseless.
"That is not a photo you would show to anybody," she says. "I felt completely taken advantage of ... as if, like, people were making it into this fun topic."
Of the pic posted by TMZ, she adds, "It's my life. I was disappointed, especially when I found out the photo was [supposedly leaked by] two women."
And while Rihanna raises the unwavering support of friends and family throughout the ordeal, she's blunt about her state of mind in those dark days.
"At some point," she admits, saying that after what she went through that night, "you are there alone. It's a lonely place to be, no one can understand."
"Domestic violence is a big secret. My story was broadcast all over the world for people to see, and they have followed every step of my recovery. The positive thing that has come out of my situation is that people can learn from that."
One pillar of support? Her mom, who separated from her dad when Rihanna was eight. "My mom gave us all the tools to survive. I helped her raise my [youngest] brother, because my mom was working all the time. He's my favorite."
Rihanna may be a style icon, but what she really aspires to be is a role model for victims of domestic abuse, something she still thinks is a secret for too many people.